Just Get Out: A Guide to Eco-Friendly Exercise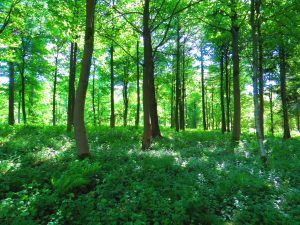 Exercising and caring for the environment are two things that are becoming more entwined in our society with more people looking to be environmentally friendly in their lifestyles. Lots of people often struggle with the idea of eco-friendly exercise and we're here to say…just get outdoors!
By now, we all know we need to reduce our carbon footprint by making changes to our lifestyles; we know it's better to walk to work than drive and we know we should stop silently cursing restaurants for their paper straws. We also know we need to stop drinking so many plastic bottles of water at the gym and stop replenishing our gym equipment so often. We're here to help and give you all the tips you need for eco-friendly exercise.
Walking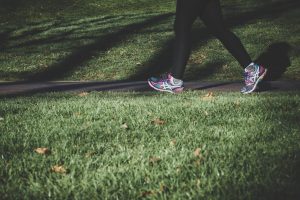 Walking is perhaps the simplest form of exercise with little to no impact on the environment and can take you to some beautiful places! Whether you're looking to escape into the tranquillity of the countryside or wander through the streets of your hometown, walking can be fabulously interesting and calming. It can help you build your fitness and gives you a stress-free break from your day.
Top Tip – Use a route planner to discover new adventures and find the public bridleways meandering the countryside
If you're looking for eco-friendly walking shoes, these Vivo Bare Foot shoes come highly recommended by us. They're even used by some of the countries' best explorers, including Ed Stafford, who became the first man to walk the Amazon
If you want  to push yourself on your walks, try adding ankle weights. Incorporating weights into even a gentle walk can really help tone muscles throughout the full body, and help you burn more calories if you're looking to lose weight. These Davina Ankle Weights are a great investment – made of neoprene, they're not as environmentally friendly as others, but are extremely durable and won't need replacing so often. If you're looking to lessen your environmental impact, buying durable products is a good place to start.
Running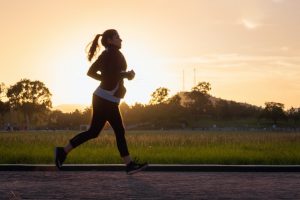 Running is a great way to improve your cardiovascular health and lose weight, and is accessible to all fitness levels. It has been shown to largely improve mental wellbeing and reduce stress, and can be brilliant for anxiety and depression. Why not get out for a jog and see how you feel afterwards
It's important to stay hydrated whilst running – eco-friendly water bottles are the way forward; using stainless steel, these Gaiam Water Bottles keep your water cooler for longer and have a mouth wide enough for ice cubes to tackle the cold-water cravings.
Yoga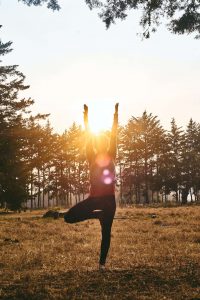 Yoga is a wonderful way to connect your mind and body with the earth. It's easy for everyone to have a go at – you don't have to be as bendy as you think! Be sure to incorporate a little yoga flow into your day to calm the mind, stretch the body and gently lift your carbon footprint from the earth with this natural occurring, sustainable cork yoga mat.
Whatever exercise you love to do, take it outdoors and use the environment to refresh your mind.
Top Tip – If you're lucky enough to live near a local farmers market, check out their eco-friendly goods for your post-workout greens!