What is protein powder?
Protein powder is one of the biggest trends in the exercise industry  with more and more people jumping on the idea. Protein is important when it comes to maintaining body tissue as it contains amino acids which are the vital ingredients when it comes to muscle growth. Protein powder will give you the same benefits as any protein rich foods such as chicken will provide tense why they are commonly being used as meal replacements, yet are best used as an addition to normal meal routines. Using a protein based drink or snack after  a exercise will help boost your pre workout recovery  so you can get back to the gym sooner rather then later.
Adapting and keeping fit in the current state of the world is a challenge with access restrictions to exercise equipment.  Having to stay inside but staying healthy can be troublesome over extended periods of time especially with access to exercise nutrition. Homemade protein powder is a cheap and stress free way to access nutritional supplements in your own home. The only three ingredients that you need are
Milk Powder
Rolled Oats
Almonds.
In 5 minutes you will have your very own homemade protein powder, so accessible to even the busiest of people. All you need is a blender and you're fit to go. Yet what's even better is all 3 of these ingredients have extended shelf lives so are easy to store for a rainy day.
Ingredients:
3 cups or 240G of skimmed instant milk powder
1 Cup or 80G of Rolled oats.          
1 Cup or 142G of almonds
Method:
Set up a safe clean and organised workspace, for this recipe you will need something to blend/pulse the ingredients together. Any blender or food processor will do.
Place 1 cup of rolled oats, milk powder and almonds into the blender/ food processor.
Blitz all 3 of these ingredients together in the blender.
Once the contents have reached a powder like consistency add 2 more cups on milk into the blender.
Blitz the contents again to ensure contents are fully blended.
Scoop the powder into an airtight container suitable for storage.
Video:
Additional information:
You now have homemade protein powder in under 5 minutes ready to help you recover from your next workout. This will last for 2 weeks if stored in a cool dry place, if you require this for longer it is recommended to store the finished product in the fridge.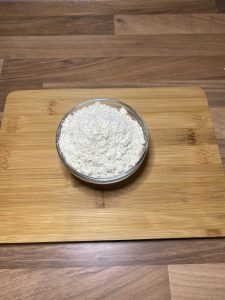 Now you have your protein powder your ready to work out so why not check out  how to get back into exercise from the lockdown break here:
Returning to exercise after a break
Why not make something tasty with your protein powder with things like protein bars or shakes. Find out more here: