There is no such thing as too old to exercise! No matter how old you are, they will always be some exercise you can perform safely from home! This blog will demonstrate the best exercises for aging adults from the comfort of their own home, the pandemic can't stop you!
Exercises using resistance bands can be directly linked to better balance, mobility, gait function, flexibility and fall efficacy – you could say they help your body stay younger for longer! Whether it's for you, a grandparent or even a friend, the benefits of resistance bands will shock you!
5 REASONS TO CHOOSE RESISTANCE BANDS TO EXERCISE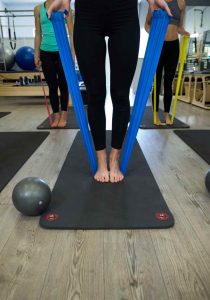 Safe

– no worrying about dropping any heavy weights!

Affordable

– one of the cheapest pieces of gym equipment to own!

Customizable

– different resistance levels can customize your daily exercise to your individual goals –

purchase individually or in bundles!

Portable

– lightweight ensures you can move and store your equipment at ease!

Simple

– they are so many different ways to use resistance bands, anyone can use them! You can try more complicated moves the more confident you get!
WHY AGING ADULTS SHOULD USE RESISTANCE BANDS:
Although Resistance bands can benefit people of all ages, it's known to be excellent way for aging adults to promote a decrease in muscular strength with aging. They are many other benefits of exercise as an older adult; balance and stability, joint strength, social and mental benefits and cardiovascular health!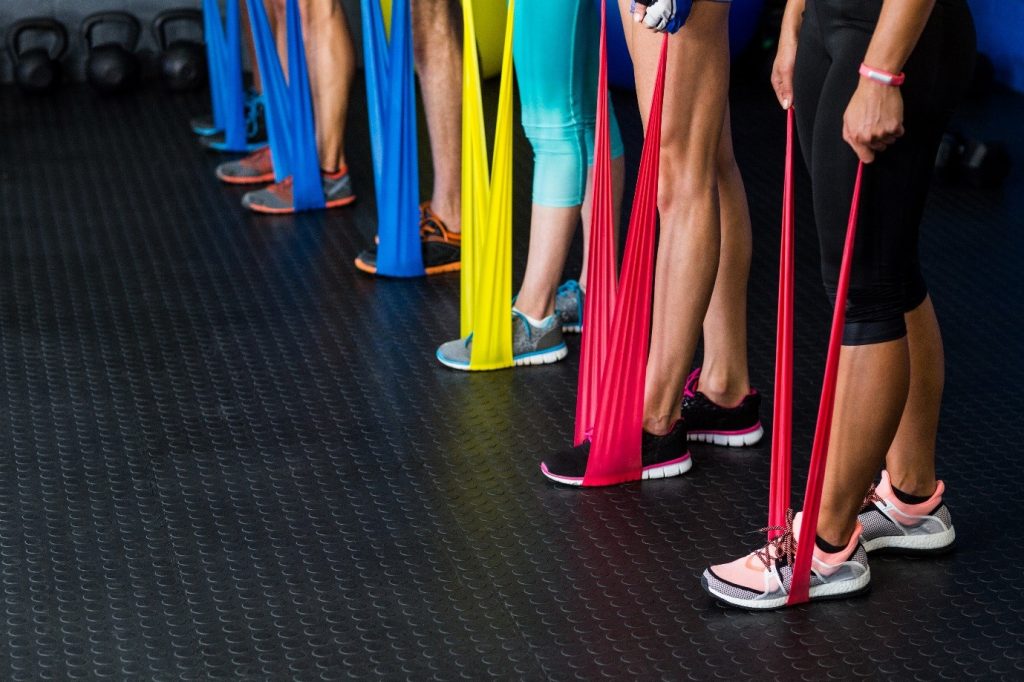 It can be easy to ignore exercise as our bodies get older, injuries and chronic pain can result in a reluctance to regularly exercise. The problem is, not exercising can cause more harm in older generations; they are many simple exercises that over 50's could benefit from if implemented in their daily life!
If you're not ready to jump straight into using equipment, explore different exercises you can do without equipment to get started.
5 RESISTANCE EXERCISES TO TRY OUT:
If you are new to resistance exercising at an older age, are injured or are returning to exercise after pregnancy you should check with a healthcare provider to ensure they are no modifications you should follow.
The following exercises have been hand selected for older adults, some positions can be completed laid and sat down to reduce intensity when required. They may be less intense but you will be sure to see and feel a difference!
BANDED ROWS – STRENGTHENS THE BACK AND FRONT OF ARMS WHILST BUILDING BETTER POSTURE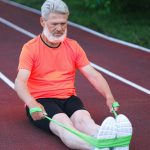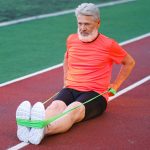 Sit on the floor with your legs together in front of you
Loop the resistance band around your feet and hold with each hand
Exhale whilst slowly pulling the bands towards your core (Keep your back straight!)
Inhale and slowly extend your arms towards your feet back into the starting position
Complete a set of up to 15 reps
BANDED TRICEP EXTENSIONS – HELPS STABILIZE THE SHOULDER AND ELBOW JOINTS, EVERYDAY LIFTING OF HEAVY ITEMS AND MAINTAINING MOTOR ACTIVITIES SUCH AS WRITING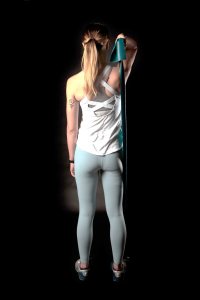 Start by standing up straight
Place one end of the resistance band under your right heel
Hold the other end with both hands over your right shoulder
Stretch the band pulling it up above your head
Return to starting position
Complete a set of up to 15 reps on each side
RESISTANCE LEG LIFTS: STRENGTHENS MUSCLES IN THE LOWER BACK, BUTTOCKS, HIPS AND THIGHS TO MAINTAIN OR ACHIEVE BETTER BALANCE WHILST AGING
If you do not have a loop band don't worry, tie your band together with a simple knot – the shorter the loop the higher the resistance!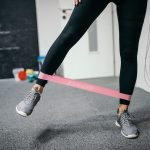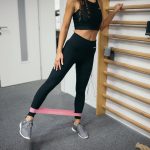 Standing up straight, place the loop around each ankle
Your feet should be shoulder-width apart whilst in an upright posture
Place your hands on your hips whilst lifting your right leg to the side – if low balance hold onto something with one arm!
Once you feel the resistance return to the starting position
Repeat for up to 15 reps each leg
BANDED ANKLE PUMPS – STRENGTHENING THE CALF MUSCLES LINKS TO BETTER HANDLING ELEVATED TERRAIN AND ACTIVITIES LIKE GOING UP AND DOWN STAIRS; THE ANKLE PUMPS UTILIZE CALF MUSCLES PUMP FUNCTION TO PUMP BLOOD TO THE HEART BY MUSCLE CONTRACTION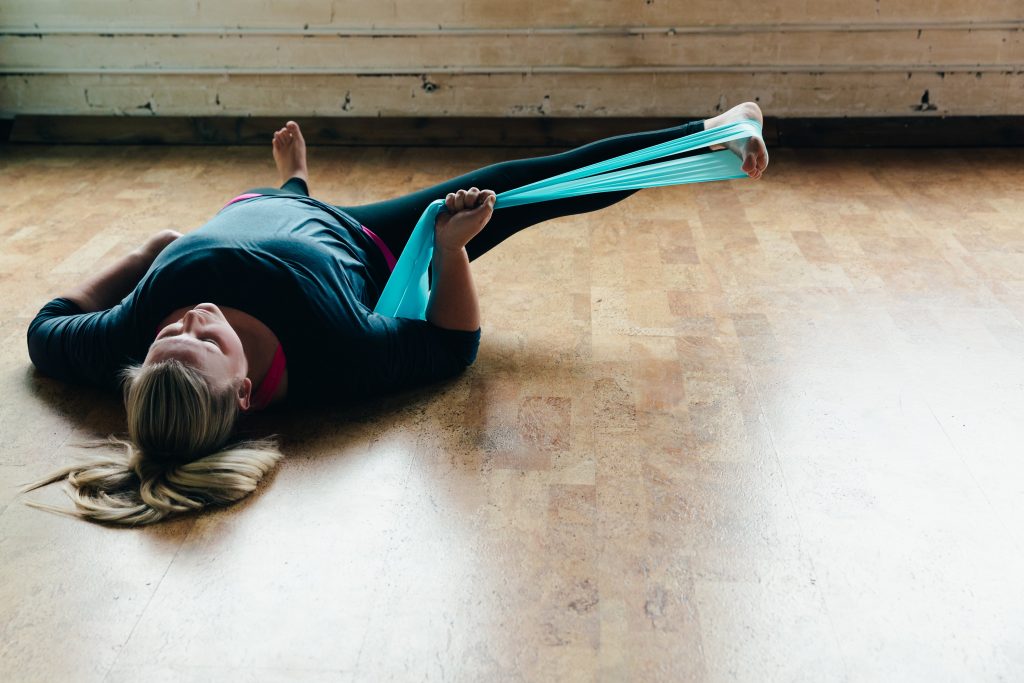 Sit in your chair in an upright position with your shoulders back (this exercise can also be done seated or laid on a floor with your legs straight in front of you!)
Holding the ends of the resistance bands close to your hips, place your right foot inside of the band and raise the extended leg
Adjust the intensity by shortening the band
When happy with the resistance level, point your foot and flex it back
This can be repeated up to 20 times
Make sure to repeat on other leg!
BAND PULL – STRENGTHENS MUSCLES IN YOUR UPPER BACK WHICH WHEN WORKED ON WILL IMPROVE POSTURE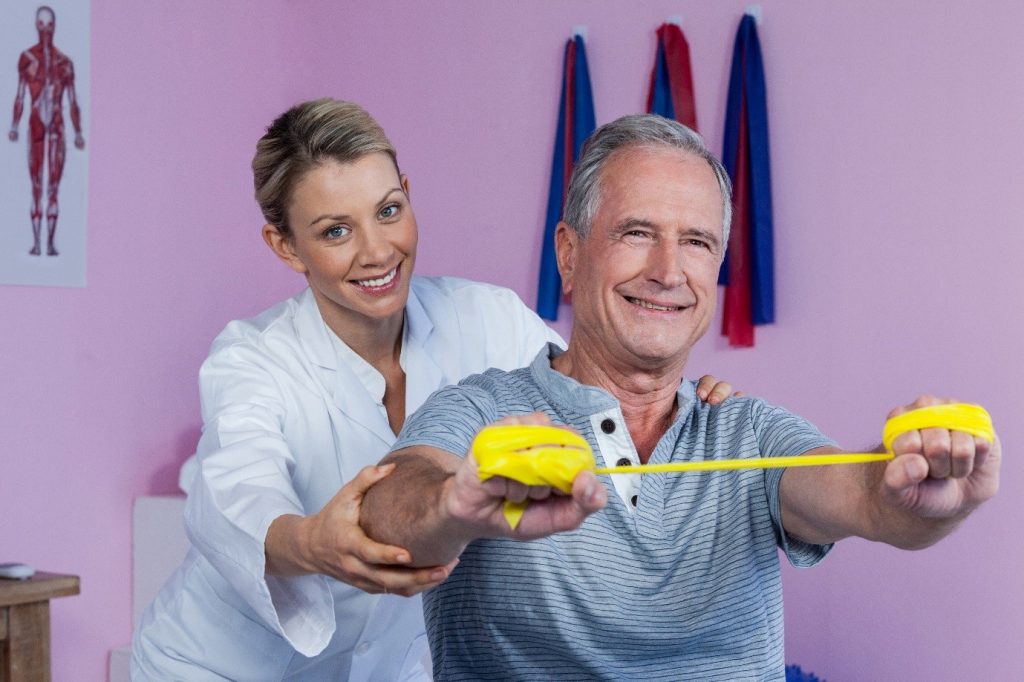 Sit in an upright position or stand, drawing your shoulders back
Hold each end of the resistance band with both hands and raise your arms to shoulder level
Inhale as you pull the band apart as far as you can, moving your arms laterally away from your shoulders – the upper body will become a T shape with arms extended
On the exhale return to the starting position
Complete a set of up to 15 reps
They are so many different exercises to try out using resistance bands to prevent muscle loss with age, but we hope these get you started! If you are looking for a more intense workout, increase the resistance and include some harder resistance exercises.
It is recommended all adults complete strengthening exercises such as working with resistance bands 2 times a week, for more info on how much exercise you should be completing see NHS Live Well.
If you enjoyed this article you can share it with family and friends, and stay stronger for longer!