To make a mark at work, to have a buzzing social life, learn something new, spend quality time with friends and family and the list goes on- we want it all sometimes but can never quite master the perfect work-life balance. The key to this is to slow down by practicing meditation and mindfulness.  
What do Beyoncé, Oprah Winfrey, Will Smith and Bill gates all have in common? Well, aside from success and wealth, they all swear by meditation and have come forward by explaining how meditating daily has done wonders for their mental well-being. Whether it is to manage stress or simply boost some energy, there is no denying that meditation has become the new go-to wellness ritual. 
Along with meditation, practicing mindfulness also helps with our overall mental as well as physical health. This is when your mind is paying attention to your present-moment flow of experience without commentary, analysis or judgement. Being mindful makes it easier to savor the simple pleasures in life and helps you become fully engaged in whatever you do.   
Here are few tips to help you maintain a healthy mental state of mind: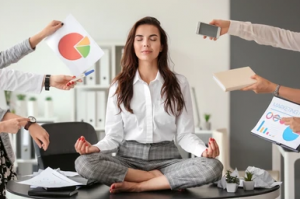 You do not require a certain time of your day to implement a mediation session, you can start by taking one-minute breaks between work by focusing on a calming picture or listening to relaxing music with your eyes closed for a minute while deeply breathing, this will help you reduce your stress levels and help you re-focus on your work.  
Set boundaries between work and

leisure.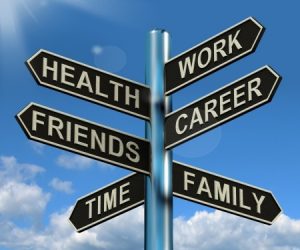 Don't forget to stop working. One of the hardest parts of work-life balance is defining the boundary between the two. The best way to do this especially when working from home, is to start by creating a designated space for work. Giving a gap between starting and ending work will help you effectively transition from life to work. Adapting these rountines  in the long run will help your brain to be wired for presence in every context. 
Believe it or not, one of the most difficult mind exercises to do is to focus on one thought at a time. Research shows only 2% of people who can effectively muti-task. Practice doing one thing at a time as often as you can throughout the day. When you are not working or studying, remain mentally present for other interactions and activities. Mindfulness saves time and helps you focus on what matters in the present.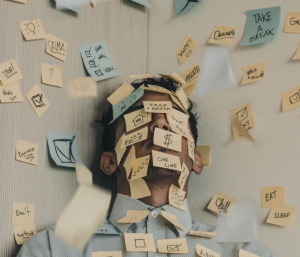 For instance, if you've decided to take an evening off for yourself, be sure to switch off and relax – don't half-heartedly skim through a book while watching Netflix just to make yourself feel like you are reading. 
Practicing a daily digital detox will allow you to disconnect from work and enhance your ability to pay attention. Have a go at the 30-Day Digital Detox Challenge by Forbes to help you begin! Be mindful of the time you spend on social media and maybe pick one activity or time every day when you can put your devices away for 15-75 minutes. 
Remember to immerse yourself in whatever you do whether it is taking your dog on a walk, playing with your kids, painting, or eating dinner with family or friends. Consider designating a room or zone in your house where electronics are not allowed to facilitate this daily digital detox.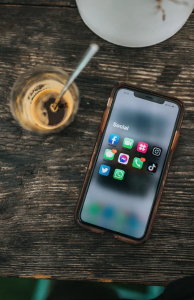 It's essential that you take time away from your screen each day. Try giving a break mid-way through the day and in the evening to shut down and transition from 'work mode' to 'home mode'. Remember, if you were previously working from a workplace, you would have a bit of down time on the journey in and home and over lunch, so make sure you schedule that time for you if you are currently studying/ working from home. 
Take out time to

reflect.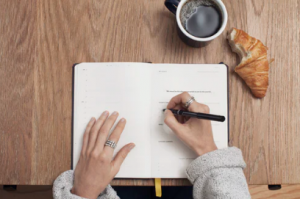 Journaling can help get all your thoughts out and on paper. Bullet Journalling is a great way to stay organised. It's worth taking some time to reflect on yourself. Especially since the past year has been so different for all of us, it's good to pen down how you felt at the start of lockdown, how you've dealt with lockdown and how you feel about the next phase.  This will help to ground you, will help to remind you that you are in control of your thoughts and choices, that you can deal with a new and uncertain situation and that you are resilient. To do this, why not arrange a new comfortable place to sit by a window to soak up that sunlight? 
Start and end your day for 

you.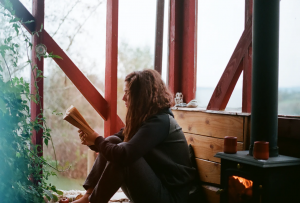 Morning and evening routines are a great way to prioritise your health and wellbeing and give you a greater sense of work-life balance. Save some time for self-care- use the first 15-60 minutes of your day mindfully: exercise, drink water or tea, meditate, stretch, read a book, anything you enjoy doing but just remember to be fully present in the moment. British author, Jay Shetty has some really useful insights on his morning routine video, why incorporating meditation, mindfulness and gratitude is really beneficial.
………………………………………………………………………………………………………..
The vital part is staying disconnected from work and screens so you not only get a great night's sleep but you will also wake up feeling restored. The next time you feel yourself stressing out whilst studying or at work, try a few of these mindfulness techniques to keep your mental wellbeing on check. Get the most important tasks done first, focus with greater clarity, and ultimately, become more productive at work. Striking a positive work-life balance is possible, you just need to take the first step.