We know that getting older can take its toll on your muscles and joints, in a time such as 2021 when getting out might be harder than expected, having a quick, low impact exercise session is perfect for getting yourself moving. Using equipment available on our website, here are 3 low impact movements you can do at home with an exercise ball.
1. Sit ups
As someone that has never been great at sit ups, using an exercise ball to provide that extra bounce and support underneath your back can really help you to do a few more sit ups than just one on the ground.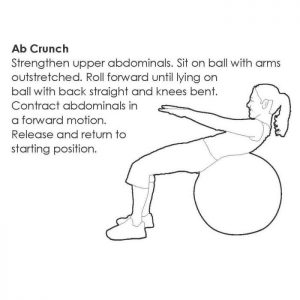 Here is an image showing how to position yourself properly and maintain a good sit up with balancing on the exercise ball.
You can also try this type of movement when you are laid in bed, and instead of trying to do a full sit up just trying lifting slightly and pushing your hands forward. From there only lift your body a little until you feel your core tighten and hold for 5 seconds, longer if you can, but any hold is good. Doing this each day will drastically improve your overall core and back strength and support you even if you're just sitting around.
2. Hip thrust
This movement is great for increasing motion in your hips and ultimately strengthening the bottom of your back. Along with the sit ups, the hip thrust movement in great for engaging your core, strengthening your back and increasing mobility.
To do this movement correctly, position your shoulder blades on the middle of the ball and ensure you have your balance. If you can't balance properly right away, use a sofa or a chair to support you while getting into position. From the position, with or without an added weight, if you slowly lift your hips from the lower position and push your hips up until your legs are straight across. Hold the position for at least 5 seconds and slowly lower. It might not seem like it's doing much but every little move you make and hold is gradually adding to your internal strength, and by doing so it is increasing your overall fitness.
You can also try this similar movement, in which you stay in the raised hip position and roll the ball underneath your body and roll back again to work your hamstrings.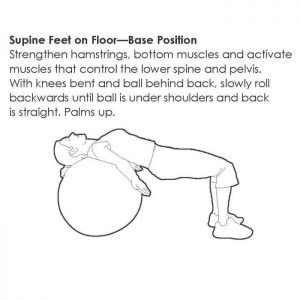 3. Upper body raises
Okay, while I don't know the actual term for this exercise movement it is most simply like a reverse sit up. For example, while the first sit up movement is raising your body chest first to your knees, this second movement is raising your back. Lay your stomach on the ball with your legs straight behind you, hands on your head and raise your body up until you're facing forward.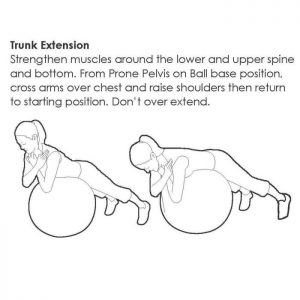 If you are struggling, here is a video of Davina McCall demonstrating this movement with this exercise ball.
These exercises may seem difficult at first, but a little effort into each movement helps you!