Every day if we notice our daily activities, some of us may barely going for workout sessions to keep ourselves healthy. We can do the exercises every week, but there is some solution for those who think that is not enough.
Daily activity can be different for anyone, even at lockdown terms. We could choose to go out for some fresh air or stay at home, but for those who are often going to the gym for exercise, this can be a problem.
On the weekend, we have more leisure than on weekdays. The picture below gives us a sample of how a lot of people are conducting exercises on Car Free Day during the weekend.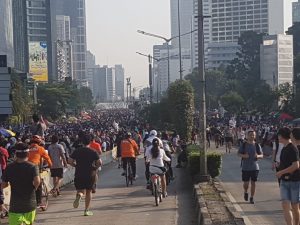 To keep ourselves healthy, we do not need to go on fitness every day, but we can wear some accessories to keep ourselves trained at all times. Though it may look weird at the office, at least it can compensate for our daily training.
Some accessories are designed to complement our training, but only a few accessories are suitable for daily life. To break it down, two accessories are best to fit in your daily life.
Ankle Weights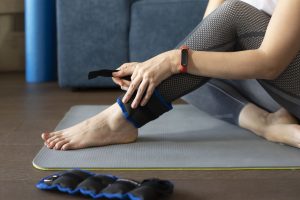 Ankle Weights is a fitness accessory that allows us to build up some muscles on our legs. When we try it for the first time, we will feel like the walk we normally used to handle at a normal pace becomes heavier than before.
You can pair it with Arm / Wrist Weights, practically if you want to train multiple sections of muscles at once (From Legs to Arms). But we have to take note that the challenges will be doubled when doing it.
A good reference is from Hajime No Ippo, where Sendo trains his legs gradually by adding weight as soon as he gets used to the Ankle Weights training. At first, he got tired by just walking around, but he gradually increases the weight on the ankle weights once he gets used to it.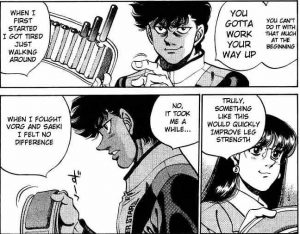 As Sendo's statement, it is better to do this exercise regularly and gradually increase the weight. We may not see the result of the training until we can feel the difference between equipping ankle weights initially and once we add more weights.
Recommendations
Ankle Weights is best used to do daily activities since it was others may not notice it when you wear it, and the length of your pants, such as jeans, was enough to cover it.
Nordic Lifting publishes the recommendations about using Ankle Weights, but the writer wants to expand it further, so we can wear it once we understand how it works.
Anyone can wear it during their daily activities, regardless of where we are. The writer's advice is to maintain safety when using it, especially if you are doing some important things such as driving. If the legs become too tired to handle, you need some rest and took off the weight to ease it down.
Arm / Wrist Weights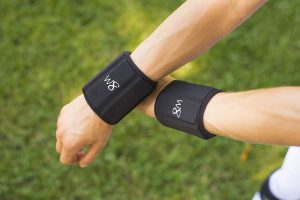 Arm Weights is a fitness accessory suited for any user that wants to train their arm strength, such as biceps and triceps. Unlike the Ankle Weights, the Arm / Wrist Weights are exposed, practically if we did not wear the long sleeve suit.
We can wear it anywhere they like, and Arm / Wrist Weights can be paired with Ankle Weights. However, we must be careful since there are many Arm and Wrist Weights types, and each of them has a different weight distribution. Arm Weights can cover your hand to the wrist, while Wrist Weights focuses on your wrist.
Recommendations
Arm / Wrist Weights are best used if you want to train when doing some job that makes them unable to do an exercise that can train your muscles. Since leg muscles are easier to train than arm muscles, it is best to gradually train your arm.
To make sure you can pick any brand that can suit your taste, it is best to wear arm weights that weigh up to 2 lb or 1kg instead of above it. That's because our arm is more vulnerable to tiredness than the legs, practically due to gravity as a prime example. While we can take a rest or sit down, use this chance to take off the Arm / Wrist Weight to loosen up some muscles and relax.
Recommended Brand
Some of the products, such as Exercise Fitness, provides an accessory that can help you to train their arms and legs. You can find the exercise Fitness website here:
https://www.exercise.co.uk/fitness-accessories
While some opt to pick a fixed weight, the writer recommends a weight that can increase or decrease according to user needs. Sendo from Hajime No Ippo already gives an example about adding weight gradually, as it will give us the difference between wearing the ankle weights and not wearing them in the long-term.
Getting flexible Arm / Wrist Weights and Ankle Weights can be beneficial in the long-term training instead of the fixed weight. We may also ask the store whether they sell the equipment to adjust the weight they feel fit when they want to. Another thing to notice is the price itself, which can be more worth than what we can expect.
Another is to get an accessory that can fit both the Wrist and Ankle, although it will be difficult to acquire due to equipment complexity. The size of your wrist and ankle could be different.
Why the writer pick these two accessories? That's because these two are the best accessories suited for our daily life. The benefit is we can go mobile with these weights equipped as we can just travel with these accessories equipped. The con side is if we took it off somewhere, we may realize that we lost something when we get back home.
Furthermore, if you don't like going to the gym, these two fitness accessories can help compensate for your training.