As broad a range that chronic illnesses can be, and with long term conditions such asthma and diabetes as the highest rates amongst young people it can be difficult to find any motivation to exercise.
Despite young people dealing with these long term conditions and navigating poor mental health because of them, and while we know a chronic illness might never go away, we can definitely try to offset some of the symptoms.
Here's 3 things you can try:
1. Any movement is better than nothing
We all know it can be difficult to wanna stop watching Netflix and actually go and exercise but navigating this fitness lifestyle with a chronic illness is hard. But even just getting up after one episode, putting on a good song and dancing wildly for those 3 minutes is better than a binge on Netflix. Trust me.
Check our post on making an exercise playlist to dance to!
Even if your chronic illness keeps you from dancing energetically for those  minutes, you can try walking up and down stairs a few times at a quicker pace than you usually do. It might seem simple, but getting your heart pumping, blood circulating and your body moving really does make a simple difference.
2. Stretching is surprisingly helpful
Stretching, yoga, pilates… call it what you want but stretching and flexing your body is crucial. Maybe you can't touch your toes and that's okay!
But if you make it your goal for the next 30 days, start by placing your hands on top of your knees. Then, try a little further and place your hands just under your knees, then halfway down your shins… see where I'm going?  Even if it is the slightest movement each day and just a tiny bit further than the last it's going to help blood flow around your body, loosen up your muscles and joints and allow your body to adjust.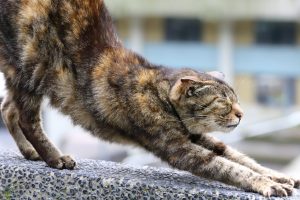 If stretching is good enough for cats, you can do it too!
3. Fresh air is your friend
While it might seem trivial that breathing can help anything, it really can wake you up to your surroundings, internally and externally. It could be standing on your garden, closing your eyes and breathing in until your chest puffs up or even just opening a window. The action of letting your space be freed up from the stuffy feeling of being unwell or trapped in a room can momentarily stop you in your tracks.
A few breathing exercises you can try with this fresh air is holding for 4 seconds, inhale for 8, hold for 4 and exhaling for 8. It can take a minute to get used to but doing this for five minutes regulates your breathing intake and the deeper your breaths, the better your blood flow. So, next time you take your dog for a walk, or open the window to let the sun in, or even when you're struggling with pain from your illness just try focussing on your breathing for five minutes and see how you feel.