Getting fit can be boring, following the same routines day in day out can make you become unmotivated. Boxing exercises can work the whole body, giving you a range of fun exercises to do to work the parts of the body you want to work on, mixing weights with cardio exercises.  Learn how to get the most from your workout by making your daily routine more exciting, we will give you a step by step guide on boxing exercises which will help you burn fat, tone up and improve your overall fitness.  We will give you the knowledge and understanding of how to use the equipment to get the most for your money, giving you the best chance to reach your goals.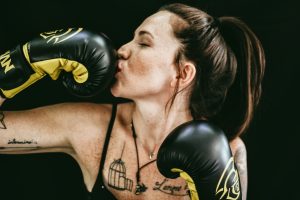 Easy to get started
All you need is a space that is your arms width, the most fun about boxing exercises is throwing the punches. Shadow boxing is a simple exercise where you can do your own thing, throwing jab, hooks and upper cuts. If you are unsure don't worry, here is former boxer Tony Jeffries to show you how its done. This is all about the intensity, creating your own combinations and having fun. Breaking into a sweat is easy with shadow boxing as you are always on the move, you will be able to feel the fat burning.
Add equipment, Step it up
With boxing the equipment is at the lower end of the price scale, adding simple equipment to your home workout can step you up to the next level, making your goals more achievable.  We want to add resistance to the workout, pushing your body to burn fat and tone the upper body. You can use hand warps or gloves with the equipment, whatever makes you feel comfortable
The equipment
Dumbbells upto 5kg – simply hold them in your hands while you do your shadow boxing, this will make you work harder to hold your hands up when you are throw your punches
Heavy boxing bag – this will give you a target to hit and motivate you to put more power into your punches
Relax punch bag – this will get you moving and increasing your punching speed, increasing your energy out put
What you need to know
Introducing boxing into your workout is great for your overall fitness and health, it will help you tone your arms and burn fat, find out more here. Taking up boxing doesn't just have a positive impact on your physical heath but it will have help with your mental well-being.  You need to know what not to do, its important to make sure you avoid making mistakes when starting something new. Technique is key to making sure you get the most from your workout and you avoid injury, find out more here. The equipment is essential for pushing your workout to the next level, giving you the best chance at achieving the goals you have set out for yourself.