Many students have found their lives taking an immense turn since  Lockdown began. Substituting late night drinking sessions and thought-provoking lectures for Netflix benders and expensive courses taught through a computer screen. This is the stark reality for budding students across the country.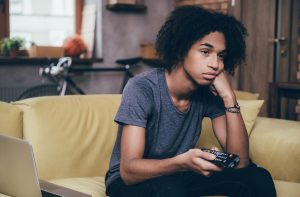 This has meant many of us have had to face the daunting prospect of staying motivated with little structure to our days. A large majority of students have started to complete daily exercise to add a sense of structure and increase motivation throughout their day. However, being locked away in our homes has meant, many of us are unaware or uninspired with how to begin or what to do. A study by Huawei found that 70% of us are walking to get more steps in and keep fit over lockdown.
I was desperate to try something different. To resolve this, I invested my time and a small amount of money into boxing cardio. I completed 10 Minutes of boxing cardio each morning in place of my usual run or weights exercises. This at home workout will help build muscle and save money in comparison to other fitness equipment.
Linda Arslanian, director of rehabilitation services at Harvard says  "Boxing Cardio has many health benefits, because it constantly requires you to think, change your position, and change your posture"
Additionally I found beating '7 bells' out of a punch bag for a few minutes a day can help alleviate an awful lot of pressure and pent up anger you may experience as a result of being cooped up for hours on end.
Here's a few quick Boxing exercises for beginners that will have you flying like a butterfly and stinging like a bee in no time.
Exercise 1: Punchbag routine

You will need: A Punchbag, Boxing Gloves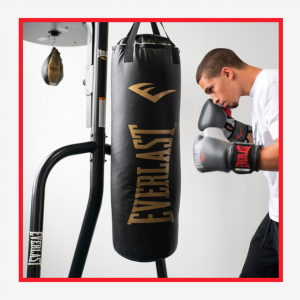 Begin your routine with 2 minutes of imaginary jump rope exercise or of course a real one if it's in your inventory, this is how you should begin every exercise. The jump rope helps improves coordination, stamina and focus and is a great way to warm upthe muscles before beginning intense exercise. If you aren't able to manage 2 minutes then any form of jumping exercises for 30 seconds or longer will suffice.
Jab, Cross, Squat
X3 sets of 45 Seconds work, 15 Seconds rest.
Face the punching bag in a boxing type stance.
Raise your hands and always remember to keep them positioned as if you're prepared to punch, also keep in mind they should always be protecting your face, this is key throughout any type of boxing exercise.
Throw 2 consecutive punches, one with your left arm and then cross over with your right.
After completing these punches immediately perform a squat and repeat this process for 45 seconds in 3 sets.

Exercise 2: Punchbag routine No.2
You will need: A Punchbag, Boxing Gloves
This exercise is different from the first one as it involves you completing kicks. To complete an effective kick, stand a legs length away from the punching bag, so your right side is facing towards the bag. Get into a boxing stance, pivot your hips moving the weight to your left foot before lifting your right leg from the floor and keeping your knee bent while completing the exercise.
Begin with 2 Minutes of Jump rope exercises.
This exercise should be done for 80 seconds with 30 second breaks implemented. Complete this routine in 3 sets. This includes:
10 reps of right side-kicks
30 Straight punches
10 reps of left side-kicks
30 consecutive punches
Exercise 3: Speedbag routine No.1
You will need: A speedbag, Hand Wraps
A speedbag, varies from a standard punchbag. Firstly, it requires a completely different movement when punching. At first this may feel a little awkward, but stick with it. The  speedbag, can be one of the most fun and efficient ways to complete your boxing routine, when done correctly.
The benefits of the speedbag, include constant arm movement, you'll find the efficiency in working these muscle groups will have you feeling the burn after your workout. Another upshot of the speedbag, is timing, once you've got the hang of it, you'll be able to work the bag at any speed you wish, as well as working your muscle's, this will also help you improve your hand eye coordination when commanding the accuracy of your punch.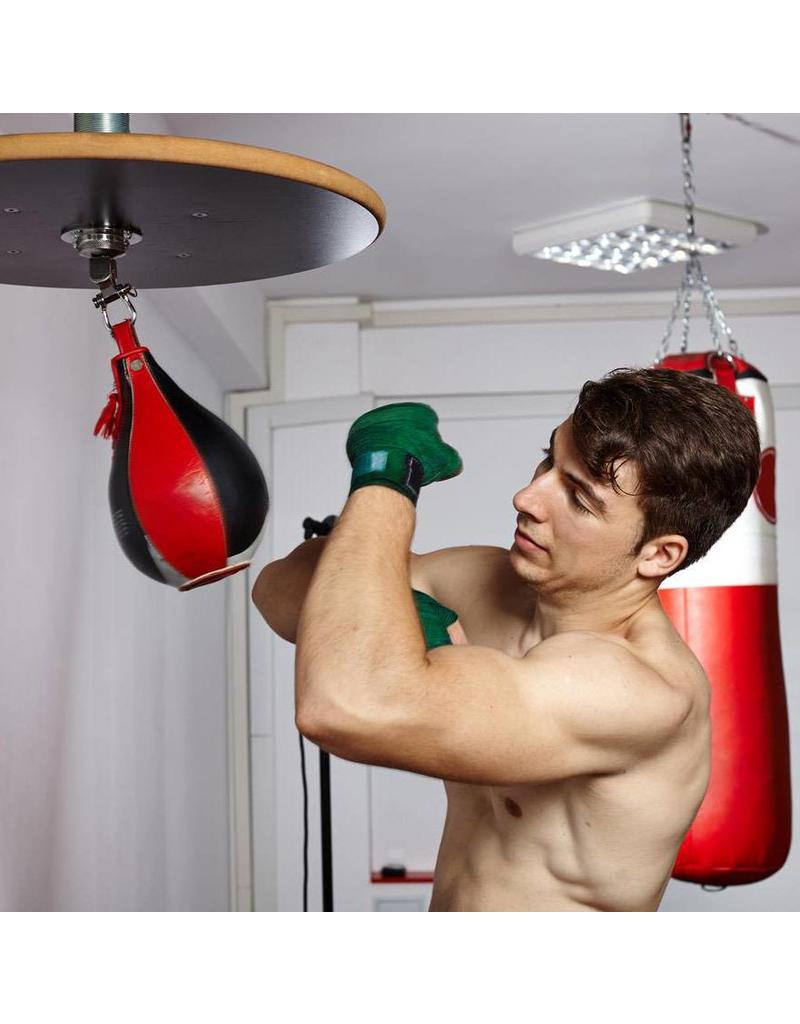 A speedbag, requires you to wear hand wraps instead of boxing gloves. These are available a little cheaper than boxing gloves and available from the Exercise.co.uk store
Begin with 2 Minutes of Jump rope exercise's
Prepare your speedbag making sure all creases have been removed form your speedbag and it properly hits the backboard
1. Get into your combative stance
2. Punch the speedbag with your right arm and then consecutively with your left arm.
3. Repeat this routine 20 x (10 x on each arm)
4. Do a total of 24 sets with 10 second breaks between each routine
5. Vary the speed
Exercise 4: Speedbag Routine No.2
This exercise is a power workout and requires you to throw a higher number of regular jabs to slowly increase your hand speed. This will be a great exercise for shoulder and arm endurance, bolstering muscle groups while also improving your punching speed.
1. Set your timer to 30 seconds.
2. Punch at a steady pace
3. Count the number of times you hit the bag in 30 seconds.
4. If the number was 35, attempt to hit the bag another 35 times in a 30 second interval.
5. Increase the number by 2 each time for 6 rounds
When lockdown is over why not take your boxing cardio to the next level, get involved in classes at your local gym or University. It's a great way to keep fit and learn the key elements of self defence.
I'd love to hear your feedback below and learn if your  boxing cardio experience was as successful as mine. We'd also love to see videos of you in action using our twitter handle @Exercise_co_uk. Make sure to tag our twitter page to be in with the chance of winning a 50% discount off any of our equipment over £100.
You can find our full range of boxing equipment, in the given link.