Introduction
Everybody wants to create an Oasis of fitness hub at their home that matches their space style and income that aligns with their cherished need of ready on the go without wasting time in visiting Gym. Gym isn't for everyone; this requires a continuous effort with a fixed schedule and commitment. However, most of the persons don't have a fixed schedule and follow a flexible schedule that needs to meet their fitness goal at whatever available time. Home gym saves time in visiting a gym that in this post corona period is not a good choice. Furthermore, it allows a person to select only that equipment that best suits the needs of a person according to their fitness goals that are in line with budget and home space available.
Types of House
So, in order to design and build a home gym, one must consider the quantity of space available at home. For that, overall home space is divided into certain categories as defined below: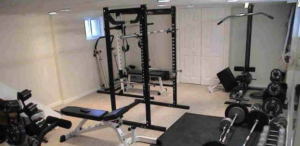 These are studio apartments that have limited space and homeowner has to make sure that gym equipment does not double down as furniture and equipment need to be portable, multi-functional which could be set up anywhere with ease (Jansson et al., 2019).
These home workout spaces have space for kicking and equipment that do not need to be hidden away and could be stalked inside the house at a corner with the liberty to expand.
Available tools would allow putting up equipment for cycling cardio and multiple intense rounds. These are garage spaces available for setting up home gyms if a person does not have a car to be parked in that space. This allows further usage of the driveway to expand the area during workouts.
Equipment
For such limited space, equipment is to be considered space-saving to ensure a faster setup process. This includes equipment such as Suspension Trainer, Resistance Band, Jump Rope, Kettlebell and Trigger Point Ball (Garagegymlab, 2021).
A Suspension Trainer would leverage on usage of your own body weight for resistance training. Resistance Band is to be used, if there is no room for dumbbells rack, resistance bands offer effective and versatile usage in resistance training. Further with the addition of a jump rope, time-efficient and space-efficient way to burn many calories and build endurance at cardiovascular muscles.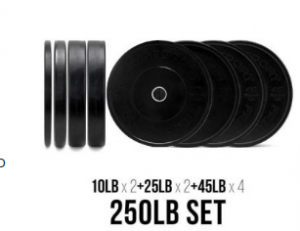 Figure 1: Bumper Plates
(Source: Oxygenmag, 2021)
This equipment is a Foldable Bench for using flat benches that are simple consisting of parallel bars. Foldable beaches are used to completely and rolled underneath a bed or in back of a closet. Further use parallel training bars for performing dips, push-ups, L-sits, and perform stretch and mobility training. Final piece of equipment is Dumbbells (Adjustable dumbbells for increment change in weight).
The equipment that is to be used is a Cross Fit Home gym package that provides a Barbells, Racks, bumper plates, Rowing Machines, 5 kettle bells, medicine ball, climbing rope, and rings. Further, it is recommended that flooring of gym space is open to ensure the floor is in a pristine condition with no oil stain and a rubberized floor would ensure grit and grip (Ressinka, 2019). A Plyometric Box is removed that are installed in a home tool that allows doing exercise of dips, box jumps and Plyometric drills to build core strength for better use of Exercise Machines.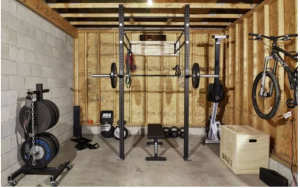 Figure 2: Garage Space
(Source: Garagegymlab, 2021)
Budget
To be honest, building a home gym is expensive in the world which depends on a number of factors of quality brand product which may go around a whopping cost of $10,000 for a functional home gym with all bells and whistles. However, here in this section would  provide some clear equipment, and according to home space a best guide for buying tools to meet fitness enthusiasts' needs for a quality budget-friendly home gym.
| | | |
| --- | --- | --- |
| Item Specification | Quantity | Price ($) |
| Cross rope Speel LE Set | 1 | 128 |
| Kettle Bell | 2 | 90 |
| Resistance bands | 2 | 20 |
| Yoga Mat | 1 | 30 |
| Trigger Point Ball | 1 | 20 |
| Total | 7 | 288 |
Table 1: Estimated budget of Home gym Setup for tiny House
(Source: Fitness superstore, 2021)
These items are all estimated cost and can vary from one band to another. This would allow fitness enthusiasts to offer mobility and strength. Overall price estimate for whole set to be around $400-$500.
| | | |
| --- | --- | --- |
| Item Specification | Quantity | Price ($) |
| Stability Ball | 1 | 45 |
| Pro series expandable dumbbell | 1 | 440 |
| Deck Folding Bench | 2 | 180 |
| Parallel Training Bars | 1 | 110 |
| Stainless Steel power bars | 1 | 100 |
| Total | 6 | 875 |
Table 2: Estimated budget of Home gym Setup for Suburbanite Setup
(Source: Fitness superstore, 2021)
These items have a total investment cost of around $1,375 and are subject to change in price from one brand to another.
Figure 3: Dumbbell Rack
(Source: Oxygenmag, 2021)
| | | |
| --- | --- | --- |
| Item Specification | Quantity | Price ($) |
| Foldable Wall-Mount Rack | 1 | 500 |
| Plyometric Box | 1 | 100 |
| Cross Fit Home Gym Package | 1 | 2725 |
| Rogue Echo Bike | 1 | 800 |
| Gym Flooring | 2 | 1000 |
| Total | 6 | 5125 |
Table 3: Estimated budget of Home gym Setup for Garage Space
(Source: Fitness superstore, 2021)
Total investment in such a setup would be around $5,230 – $5,730 consisting of or cycling bike, conditioning, and cardio setup with wall mount gym package and pull up a package, this is subject to be changed from one branch to another (Oxygenmag, 2021). Other recommendations: The Best Exercise Bikes of 2020/ The Best Rowing Machines of 2020/ The Best Home Gym Equipment Ideas for The Elderly/ Cost Effective Ways to Set Up a Home Gym
Conclusion
So in conclusion, above points indicate necessary equipment can be bought under-budgeted amount. It is required that initial fitness enthusiasts do need to avoid all in one expensive machine which is impressive looking equipment and have fancy looking stuff but is not a good investment for a fitness enthusiast. This All-in-One machine would cost thousands of dollars and suck up all instalment plans in plain equipment, which would hardly require usage. Therefore, it is recommended that fitness enthusiasts adopt smaller equipment and grow with usage according to their preference and usage in the coming days. This saves thousands of dollars, which would be lost in building an effective workout based on infomercial hype and does not turn your house into a gym plan and buy equipment only according to their needs in everyday fitness goals.
Tags:
◙   Gym Equipment    ◙   Exercises    ◙   Fitness    ◙   Weight Loss    ◙   Work Out