Why use protein bars?
Protein bars are similar to other alternatives such as cereal bars but include protein powder within the bar. Protein power is one of the the biggest trends in the exercise market and its popularity just keeps on growing. The protein in these bars are a perfect accompaniment to an end of session snack to help boost your recovery. The protein powder within this snack will provide you with animo acids that is one of the most vital ingredients when it comes to muscle growth. All the ingredients you need to make this snack have extended shelf lives so even if you do use store branded snacks, it is useful to just keep these ingredients in your pantry for a rainy day. Using a protein based snack or drink after a workout will help boost your post workout recovery so you can get yourself back into the gym sooner rather than later. Homemade protein bars are a cheap and stress free way to produce nutritional snacks in your own home.
Ingredients:
3/4 cup of peanut butter (creamy preferable
1/3 cup of honey
2 tablespoons of coconut oil
2 cups of rolled oats
1/2 cup of protein powder
1/4 teaspoon of cinnamon
1/4 teaspoon of salt
1/3 cup of chocolate chips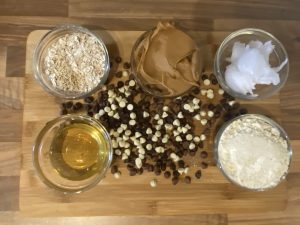 Method
(optional) Line a baking pan with parchment paper with parchment paper allowing it to overhang on 2 sides to act as handles
Place the peanut butter, honey and coconut oil in a bowl, set the bowl on-top of simmering water being careful to not bring the water to a boil.
Stir and heat the mixture until combined in a smooth paste, remove the bowl and turn off the heat
Add oats, protein powder, cinnamon and salt to the peanut butter mixture and stir together to combine
Add the chocolate chips to the mixture (note: if the mixture is still warm, store in a refrigerator before adding the chips to ensure they don't melt)
Spoon and press the mixture into your baking pan and store in the refrigerator until firm
Lift the bars from the baking pan and slice the bars into your desired portion size and enjoy 😊.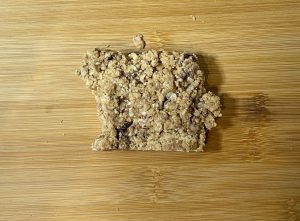 Video
Additional Information:
Store the bars at room temperature for up to a week, for long term storage they can be frozen for up to 3 months. Alternatively can be stored in a fridge but taste better when at room temperature.
Now you have a perfect post exercise snack why not check out some of the exercise resources to learn how to incorporate a new exercise into your daily routine here:
boxing techniques for beginners
If you want to try and make your own protein powder why not check out how to do so here: