Did you know when following any type of healthy diet plan to fulfil a healthy lifestyle the 80-20 rule is an important rule to follow by? This rule consists of 80% nutrition and 20% fitness, both in which compliment each other and are not effective unless they are fulfilled together. This rule highlights to us how important nutrition and our diet is hence meal prepping being key to maintaining this rule of thumb. For more detailed, prep planned aimed at specific needs check out our up and coming blog explaining what macros are and how to implement them.
 What is Meal Prepping?
The answer is in the name …meal prepping literally means prepping your meals in advance, this could be through choosing a free afternoon to pre-cook and portion your food out for a few days or even for the week. The goal is to help you stay on track through controlling your nutrition and calories to meet desired dietary needs and goals.
Why Meal Prep?
The beauty of meal prep is that it allows you to be ahead of yourself for a few days or a week. This is perfect for people with busy lifestyles or if you just simply need a little motivation, structure and a plan to follow. It also allows you to reduce your time and food shopping cost whist reaching you desired goal such as losing weight, maintaining weight or bulking.
How to Meal Prep?
Firstly you need to determine your end  goal, this will allow you to start your meal prepping journey in terms of making your nutrition and training plan personal to your desired goal.
Tips when Meal Prepping:
There are several useful tips for meal prepping… our top three picks have to be:
Making a meal plan (set a day to cook every week)
Weekly shopping list
Exercise at least three times a week (this will help you maximise your visual results and see the real benefits of your meal prep journey).
Remember.. consistency is KEY.
Food Ideas
We have you covered with our quick and easy meal prep ideas for three different goals:
Weight loss
Maintaining Weight
Bulking
Here is an example day of Meal Prepping for three different goals: 
Who said you can't have fun when Meal Prepping ?
Weight loss
Breakfast: Egg Muffins – Eggs,Courgette, Spinach, Turkey Rashers.    Lunch: Tropical Salad – Quinoa, Tuna, Papaya, Mixed Leaves, Peppers,Grated Carrot, Feta Cheese.                                                                       Dinner: Nando's Fakeaway- Nando's Sauce, Chicken Breast, Sweet Potato, Broccoli.                                                                                                                     Snacks: 2 Dark Chocolate Rice Cakes, 1 Protein Bar.
A days Weight loss Meal Prep: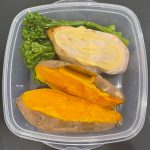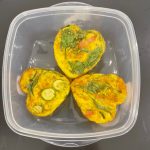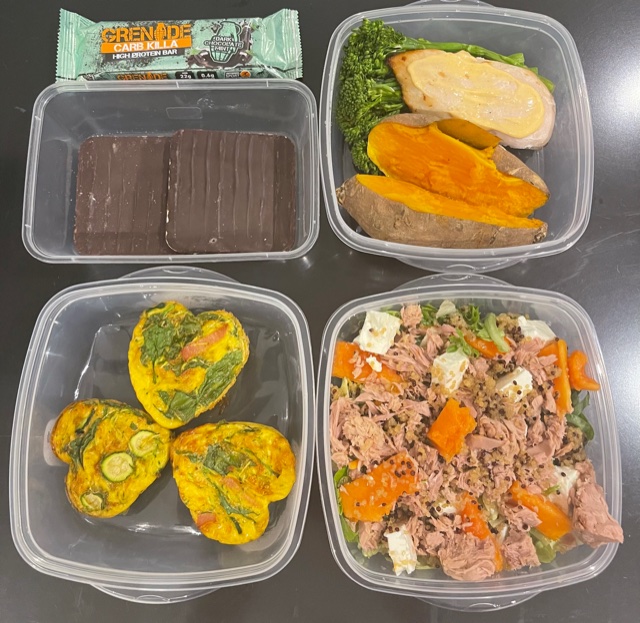 This meal prep example is very high in protein. The benefits of protein being a big assistant in helping the process of changing your body's composition resulting in overall weight loss.
The most suitable exercise to complement your weight loss journey is cardio,  also interval training  is a good fun way to incorporate into your fitness regime. This type of training is when you alternate periods of high and low intensity activity. An example of interval training could be alternating between  sprinting and walking on a treadmill.
Maintenance
Breakfast: Overnight Oats- Protein Powder, Oats, Water.                         Lunch: Skinny N Spicy Salad- Chicken Breast, Sweet Chili Sauce, Rice, Mixed Leaves, Peppers, Grated Carrots, Cabbage.                             Dinner: Bangers N Grains – 4 Beef Sausages, Rice, Green Beans           Snacks: Handful of Mixed Seeds & Nuts, 1 Protein Bar, 2 Dark Chocolate Rice cakes.
A days Maintenance Meal Prep: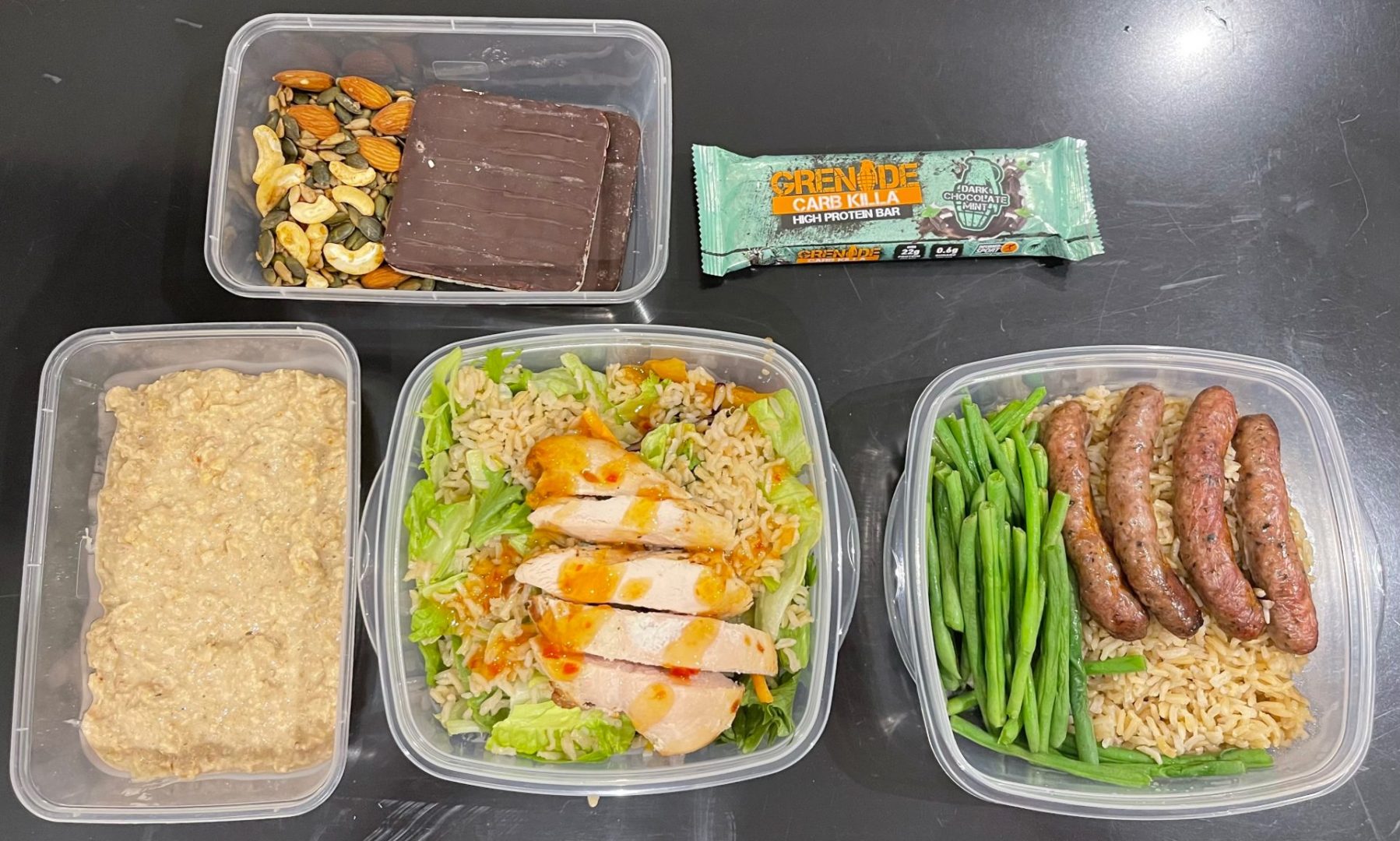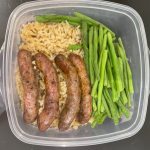 This Meal Prep example day shows the importance of balancing protein, carbohydrates and fats when following a maintenance diet. Protein is used for both energy and building muscle, Carbohydrates are important for energy and fats are used for energy after been broken down into fatty acids.
 When following a Maintenance Meal Prep plan to maintain your overall body weight, a balance of both strength training and cardio is the best to do this, as it allows you to strengthen muscles as well as keeping your fitness levels up too. Exercises for both cardio and muscle strength, could be sprints using the rowing machine.
Need a little more inspo and motivation? why not take a look at our guide to 20 Minute HITT Rowing Machine Workout.
Bulking
Breakfast: Peanut Butter Overnight Oats- Protein Powder, Peanut Butter, Oats, Water.                                                                                                           Lunch: Power Plate- 2 Tins of Tuna in Olive oil, Quinoa, 1 Avocado.   Dinner: Omega Loaded- 2 Salmon Fillets, 2 Sweet Potatoes,Broccoli Snacks: 2 Chicken Breasts, 1 protein bar, Bagel with Peanut Butter & Banana
A days Bulking Meal Prep: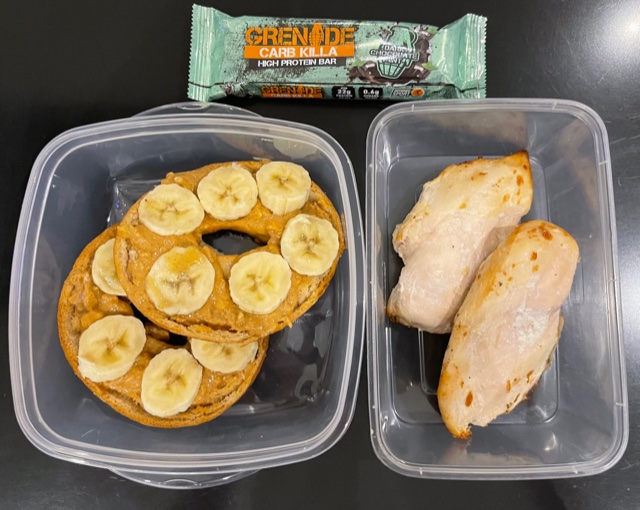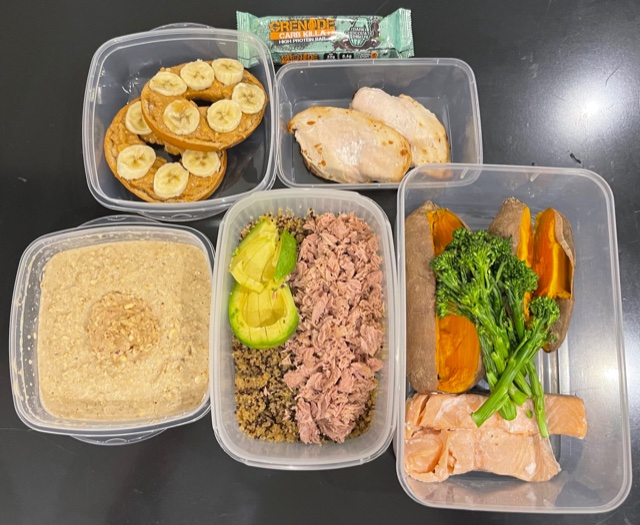 There are several  key factors when Bulking such as feeding your muscles with enough nutrition. It is important to include fatty foods, this is to ensure muscles can be repaired as quickly as possible after heavy training. It is essential when bulking  to radically increase the calories consumed beyond your bodies needs. This provides fats to be a good way of getting your calorie intake up, as they're over double the amount of calories per gram than carbohydrates and protein. For more advice see our guide to Why a high-calorie breakfast is good for weight gain. 
To maximise your  results, you need to be doing intense weight training, bulking is all about packing in those heavy weighted workout routines. The bulking process acquires you to have a lot of dedication, patience and commitment with your training, even at home there are no excuses weight training can still be fulfilled…. check out our resistant band workout  guide.
Change in Mindset
Meal prepping allows you to have structure, as it sets you up for the week, changing your mindset from your old bad habits to new good ones. This therefore motivates you to reach your goals. Along with Meal Prepping and training,  meditating a few times a week will allow you to completely detox your body with any stress or worries. All of these factors can have a knock on affect in your new regime of meal prepping; getting into a new routine to better yourself.
Before beginning any exercise or nutrition program, consult your physician, doctor or other professional. This is especially important for individuals over the age of 35 or persons with pre-existing health problems. Exercise.co.uk assumes no responsibility for personal injury or property damage sustained using our advice.
If you experience dizziness, nausea, chest pain, or any other abnormal symptoms, stop the workout at once and consult a physician or doctor immediately.