Should I be doing Yoga Workouts?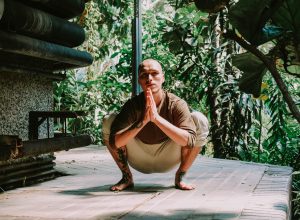 The short answer is yes – yoga isn't all about middle-aged women meeting up at the studio with their yoga mats to get their stretch on and drink their protein shakes; it's more inclusive, easier and beneficial than you might think!
Although yoga workouts are not the most effective way to lose weight, they are great for building strength, toning muscles and improving balance and flexibility. We don't need to tell you the importance of exercise for your overall health, but we can tell you how amazing yoga is in helping you reach your fitness goals, one stretch at a time! Ranging from cardio to strength training, yoga lets you stretch muscles you didn't know existed and gets your heart working to release endorphins – it's de-stressing, grounding and boy, does it make you feel good!
Unlike a normal vinyasa flow, a yoga workout incorporates more intense exercises, much like a HiiT routine (including squats, mountain climbers and jumping jacks) to keep your body moving and your heart rate up. It counts towards your daily 'vigorous' exercise recommendations set out by the NHS and is easily adaptable to your fitness levels.
Yoga workouts, like any other workout, require warm ups and cool downs for injury prevention – check out this article to learn more and find out how best to warm up.
Top Tip – yoga poses and flows can be used in your warm ups and cool downs!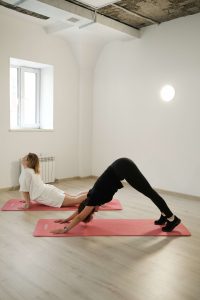 Upward facing dog (background) and downward facing dog (foreground) are fabulous poses to be used in any yoga routine and warm up – stretching your back, arms and legs, they're poses incorporating a variety of muscles to help improve flexibility. Don't worry if you can't form a perfect angle in downward facing dog, the main focus is keeping your back straight, meaning you can bend your knees to help maintain the pose. Upward facing dog can easily be transformed into child's pose by keeping your hands flat on the ground, lifting up onto your knees and sitting back, allowing your arms to be outstretched on the ground in front of you.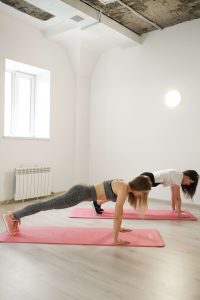 High plank is a pose integral in a lot of yoga flows and helps build strength and muscle in your core and shoulders. It can easily be adapted and incorporated into a more intense yoga workout with mountain climbers by keeping your hands flat to the ground in the position shown above, bringing one leg at a time towards your elbows, as if you're running.
This yoga workout for beginners video comes highly recommended from us, incorporating some key yoga poses, including those above, in a simple yet effective workout. Using videos like this are wonderful for motivation and guidance, as well as helping to focus your breathing – a concept vital to yoga.
Yoga workouts are a great way to have fun, vigorously certified exercise that will help your mental and physical health. They can easily break up study sessions and help you stretch your aching, study-induced muscles.