As I found myself particularly unmotivated during lockdown, with no idea of what kind of exercise to do without access to the gym… I pretty much stopped exercising. I used to struggle to close my apple watch rings, watching as my friends overtook me every day, my Apple watch is supposed to track my fitness, not track whether I get off the sofa at all. Things were getting pretty dire until I saw that Apple were bringing out 'Fitness+', a £10 subscription that connects with your Apple watch and other devices to bring the classes from the gym, home to you.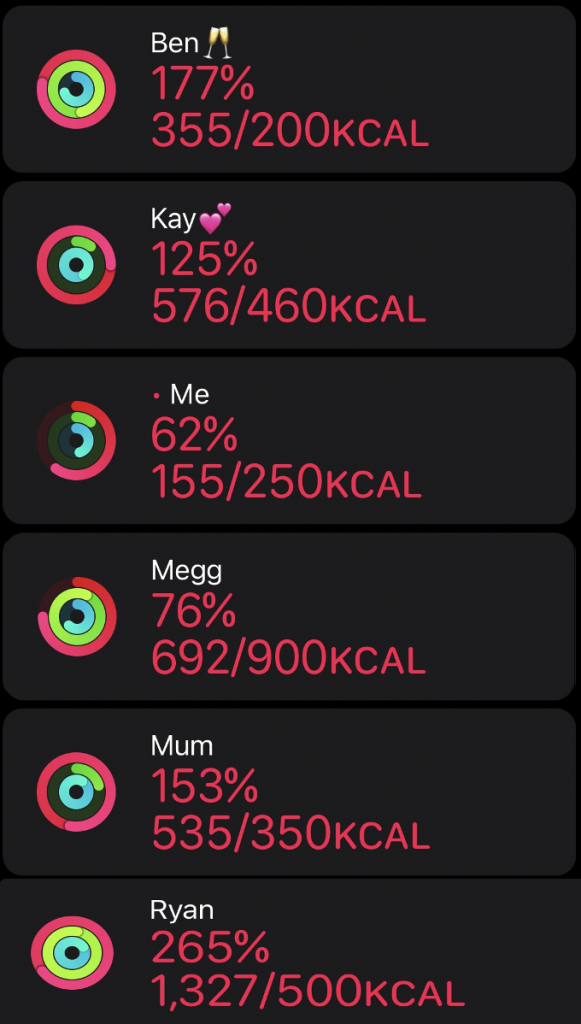 At first, I was a bit overwhelmed, there were loads of workouts that I had never even thought of doing, so I decided to dip my toes in with a short yoga session, which I thought was an easy start and I only needed a yoga mat. Tip here, give yourself enough space, and place your iPhone or tablet at a level where you can see it stood up, or sat down, or connect to your Apple TV to watch. My lack of space was the main issue with this yoga session, but regardless, I still enjoyed it. Another thing I enjoyed about the yoga, was that within the group, one of the instructors would display an easier version of the yoga pose, so that beginners would be able to join in too. 'Bird of Paradise' was the final pose for my session, but I couldn't manage that pose because it was so twisty, so I did the half version that was displayed for beginners. So if you want to learn a bit of yoga, Fitness+ is great for experts and beginners.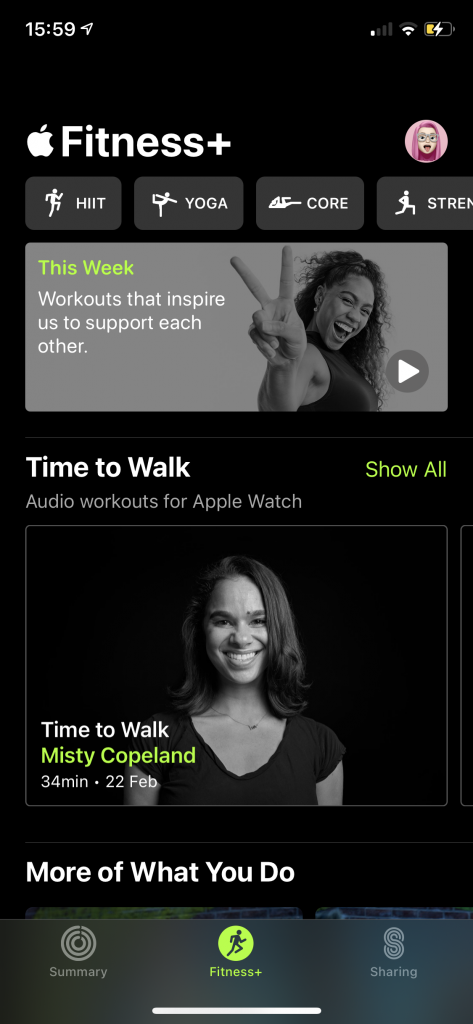 The next day, I decided to try the exercise bike classes on Fitness+, and don't worry if you only have an old exercise bike, I attached my phone to the bike with blu tac for now, but I am going to buy a stand for my phone. The session was hard, you're in charge of your own resistance, so it's as hard as you want it to be, but when you have to go for it, it can be really hard. I decided to do my class with Sherica (one of the instructors), with the music being 'latest hits', but there was actually lots of options to choose from. After my intense 20 minutes on the bike, I was offered a mindful cooldown. The mindful cool down was actually really helpful too, with some stretches and breathing exercises to bring your heart rate back down, and properly stretch out your muscles.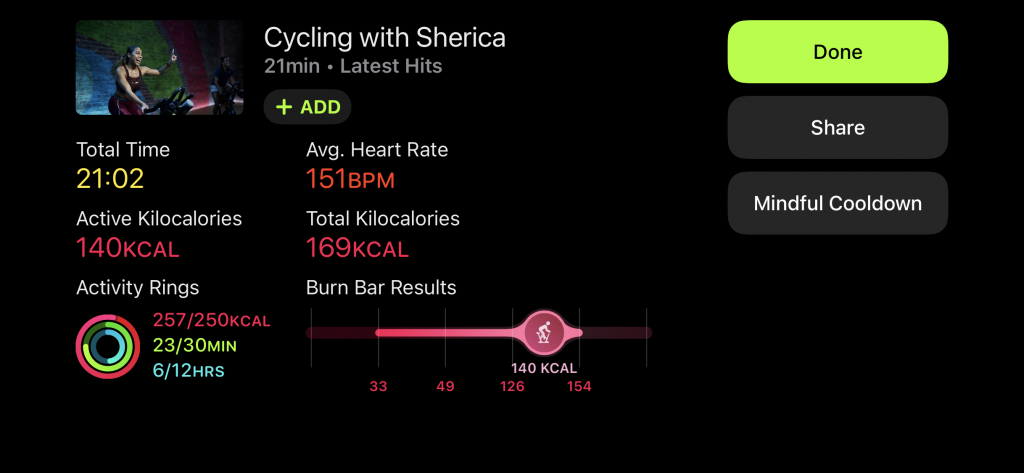 The 'burn bar' is a red bar displayed on the screen that allows you to see how you face up next to everyone else that have taken that class. I really liked this, because when I dropped down, I wanted to put more effort in to get back to the 'front of the pack' part of the burn bar. If competition isn't your thing though, you can always turn it off. The instructor often mentions your burn burn, heart rate, and rings. When the instructor mentions these things they become highlighted and you get to see more details.

All this doesn't work without an Apple Watch, so if you haven't got one, I'd recommend you go down the Fitbit route instead, or a Samsung smart watch. There are so many options for wearables now that if an Apple Watch is out of your budget, you can still track your fitness with a cheaper alternative, instead of spending £300 on an Apple Watch, some exercise gear and/or machines, and the £10 monthly subscription, but if Apple Watches are your thing and you already have some of their devices, the £10 a month is completely worth it. 

The next day I decided to try a core workout, with the use of dumbbells. Just like the yoga, this was difficult due to my lack of Apple TV or iPad. It was enjoyable, and gave me a variety of workouts that I wouldn't have thought of doing without Fitness+, but it's very expensive to take full advantage of it, if you don't already own the devices.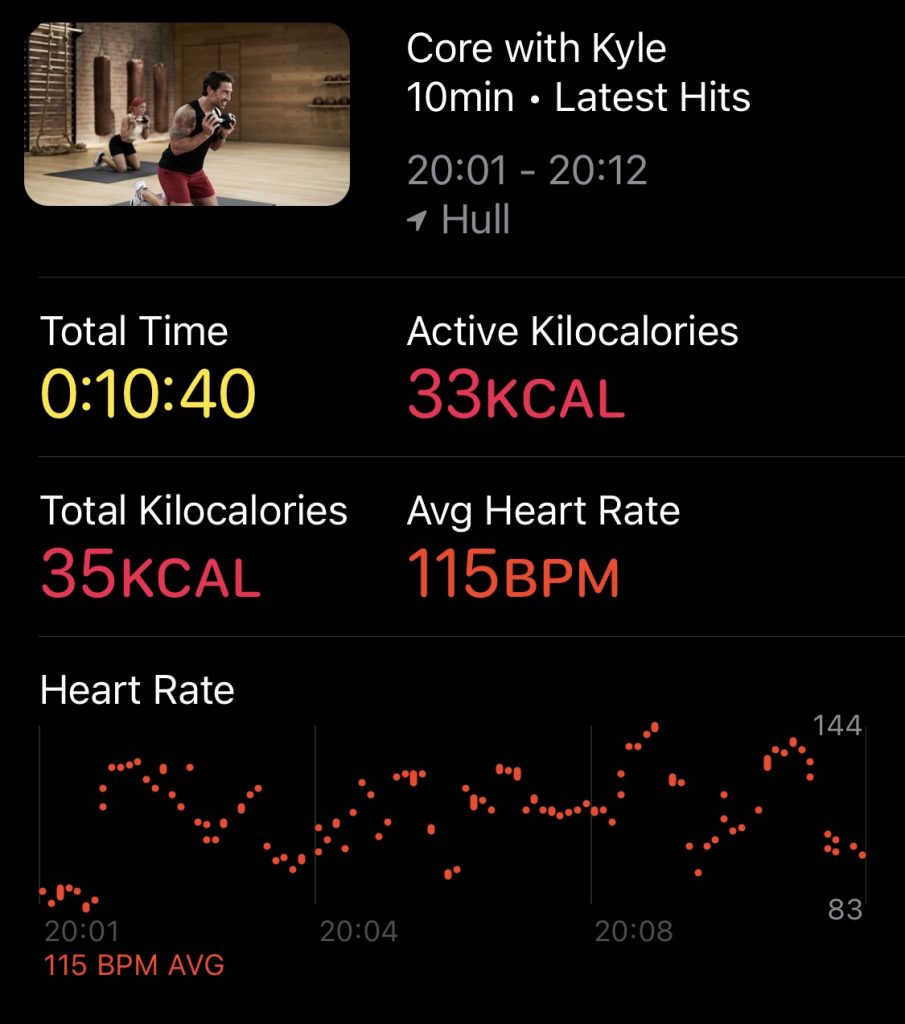 The best thing about the watch and Fitness+ combination is the motivation and direction it gives you. I want to exercise, but with lack of direction, I'll just carry-on watching Netflix. With the watch telling me that I need to do more exercise and close my rings, I can pick a workout of my choice from Apple's offerings. The workouts always include a playlist as well, and if you have Apple Music, you can listen to all these playlists in your own time as well.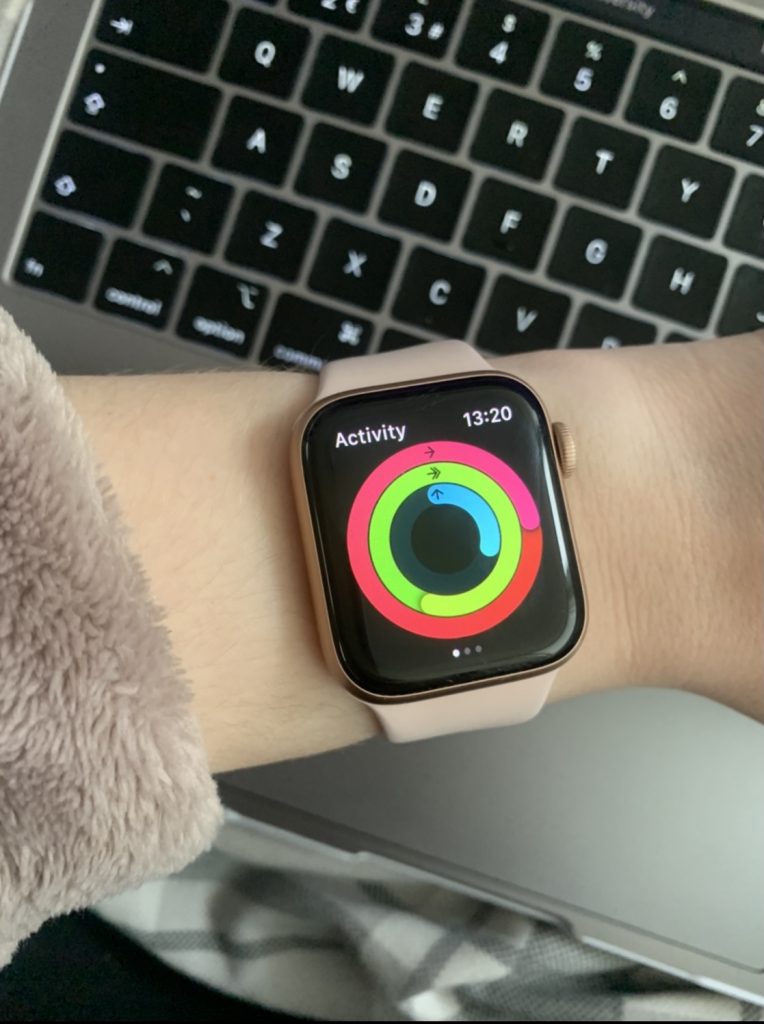 One thing I don't like about this subscription, you can't just log in on your laptop or cast to your tv. You can only view it on an iPhone, iPad, or Apple TV. Trying to watch on an iPhone is difficult because you have to keep moving it, and iPad would probably be quite good, but I'm not paying out even more money to be able to use it. An Apple TV costs around £150, and this would be the best device to have fitness plus on, as you could hook it up to any tv. You can connect to anyone's Apple TV…so if you live with someone who owns one and likes you, you've saved some money. No one wants to pay even more just to exercise, so once again, Apple Fitness is great… as long as you're already integrated with Apple devices.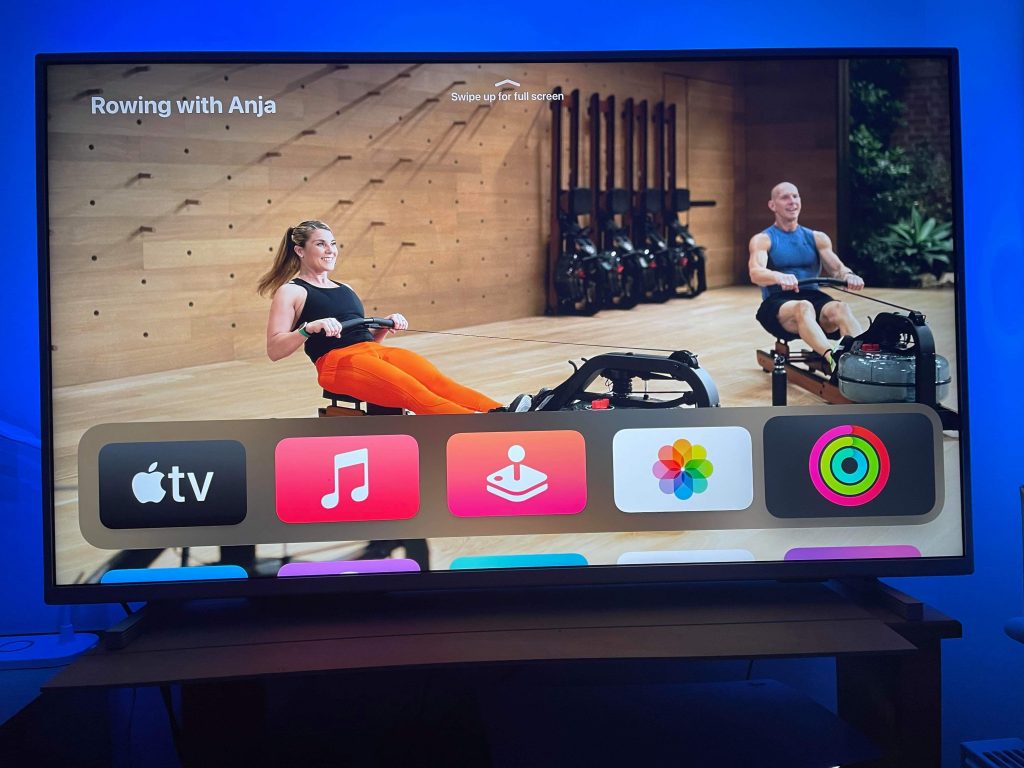 So all in all? If you already have an Apple watch ? Go for it, get the subscription. If you're not an apple user? I'd just get a fitbit and try one of the many other workout subscriptions online, such as peleton or zwift, but it works for me, and it's given me the motivation and push I need to exercise every single day.